This Week:
2020 VSEA Annual Meeting WARN Emailed To Members!

Deadline Is Monday To Get Your Name On Ballot To Be VSEA's Next President

State's Latest Budget Proposal Avoids Cuts — For Now

Lt. Governor Calls For New Leadership At The Vermont Veterans' Home

Chapter Annual Meeting Schedule To Date

Quote Of The Week!
Celebrating 100 Years Of Women's Suffrage
Message From BGS Safety & Security Division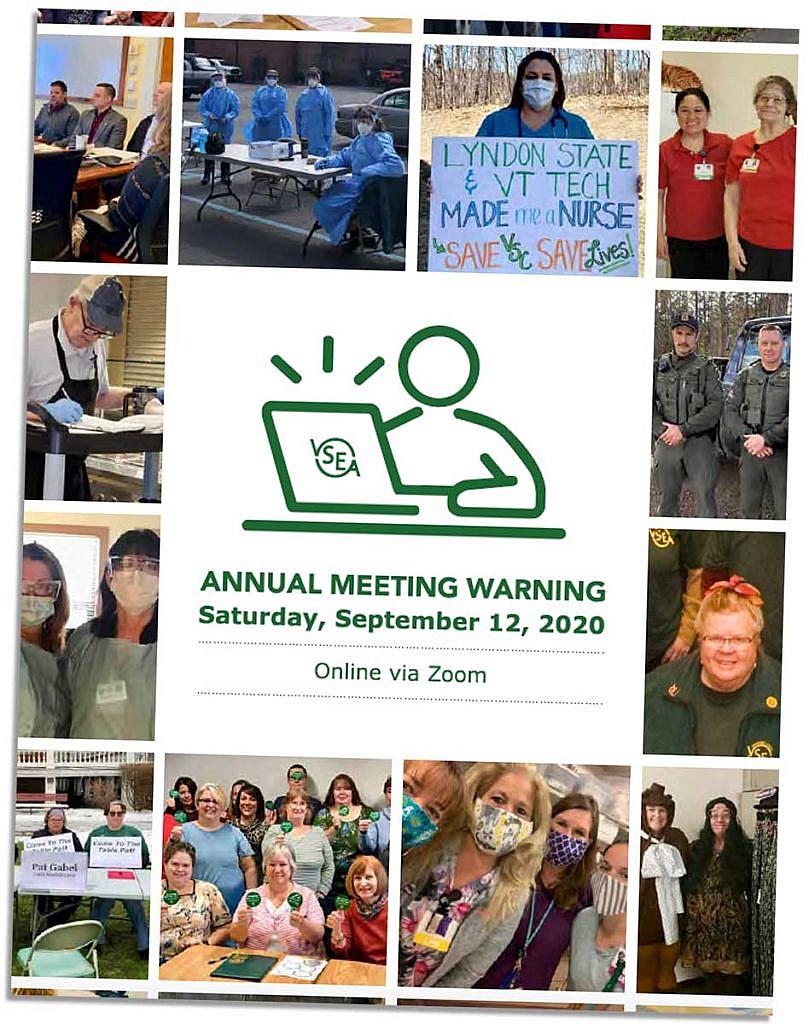 On Saturday, September 12, VSEA is holding its 76th Annual Meeting online, via Zoom. This is your union's most important meeting of the year, as members come together to set VSEA priorities and vote on an operating budget (including dues) and bylaw-change proposals.
Please take some time in advance of September 12 to familiarize yourself with the content in the VSEA Annual Meeting WARN, and, if you are planning to attend, please keep this information available for further review during the meeting.
View or Download the 2020 Annual Meeting Warn Here (Log-in Required. Need a VSEA.org account? Register Here.)
This Week:
Annual Meeting Now By Zoom Only!
VOTE! Vermont Primary Is August 11!
Reminder: VSEA Primary Election Endorsements
See You Next Year. State Extends Remote-Work Policy Through December 31!
VSEA Board of Trustees Election Results
Council Members Urged To Complete Surveys
NMU Bargaining Team & Executive Committee Looking To Fill Vacancies
Chapter Annual Meeting Schedule To Date
VSEA Issues Press Release Announcing President Bellini's Retirement
VSEA Vets' Home Members Launch Petition To Oust CEO Due To Failure To Quarantine
More Than 150 Vermont Inmates Test Positive For COVID At Mississippi Private Prison
« Previous
1
2
3
4
5
6
…
649
Next »